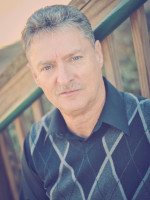 ASSOCIATE BROKER
209521
Office: 770-914-2122
Cell: 404-867-4804
Fax: 770-914-5121
157 Keys Ferry Street
McDonough, GA 30253
I have been representing buyers and sellers in Henry County real estate transactions for over 17 years, specializing in residential real estate. In addition to the sales of single-family homes. I have also been the exclusive marketing agent for numerous new home developments. My wife Lisa, also a licensed Realtor, works as our office assistant, marketing,  and contract closing coordinator.
We are dedicated and knowledgeable team who can provide you with highly specialized information that will help you to make the right decisions. It's the combination of this unique market knowledge, excellent customer service, and negotiating skills that enables us to get you the optimal price for any property you plan to buy or sell.
In today's market, there is simply no substitute for a good Realtor. Whether you're looking to buy or sell, a Realtor can make the difference between a smooth transaction and a unsuccessful one.
Enthusiasm, hard work, and personalized service go into everything we do.