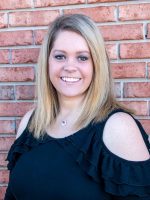 REALTOR
388226
Office: 770-914-2122
Cell: 770-597-2888
Fax: 770-914-5121
157 Keys Ferry Street
McDonough, GA 30253
Communication is key to success, As a licensed agent my top priority is giving you the best customer service out there. I will put your needs ahead of my own and help you find your forever home.
Before Real Estate, my career has been in the Wholesale insurance world, working for the #1 wholesale company in the US as a Senior Technical Assistant. Customer Service has been my life for 8 years and will continue on in my new career as a Realtor.
Outside of Real Estate, I enjoy spending time with family, shopping & crafting. I am married to my husband, Jeremy and we have 2 sweet little boys, Garrison and Grant .